Items You Can Recycle
Plastic
Plastic bottles, jars, jugs, & containers, regardless of the number on the bottom.  Separate the lid and container before placing in the bin
Examples:  Milk jugs, water bottles, detergent jugs, shampoo bottles

Paper
Paper cartons
Newsprint
Printer/Copier Paper
Corrugated Cardboard
Examples:  Milk/Juice cartons, newspapers, food boxes, magazines, telephone books

Glass
Glass bottles and jars (clear, brown, blue, & green)
Examples:  Drink bottles, glass jars

Steel & Tin Cans
Aluminum & steel cans (beverage, food, and aerosol)
Examples:  Drink and food cans, pet food cans, aerosol cans
Items Not for Our Recycling Bin
Food/Grease saturated products, such as pizza boxes that are grease stained
Batteries (see FAQ)
Clothing
Food Waste
Mirrors
Plastic Bags – Plastic bags can be recycled at a grocery stores, usually at the front entrance
Flexible plastic (plastic wrap, garden hoses)
Shredded Paper
Laminated Paper
Styrofoam
Tissue
Paper Towels
Light Bulbs
Glassware
Window/Automotive Glass
Metal Hangers
Cooking Pots/Pans or Scrap Metal
Plastic Toys
For a printable flier of this information, click here.

Recycling in Lancaster County
We offer recycling where the township has enacted a curbside recycling ordinance in accordance with Act 101, Pennsylvania's "Municipal Waste Planning, Recycling and Waste Reduction Act."
We offer curbside recycling for
Providence Township
Pequea Township
Strasburg Township
Strasburg Borough
Quarryville Borough
East Lampeter Township (we currently service a small section of East Lampeter)
Recycling Covered Devices: It's the Law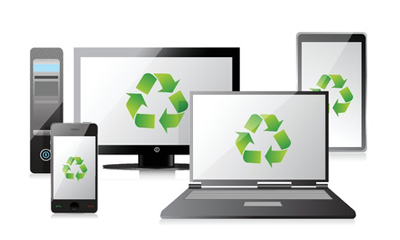 In 2013, Pennsylvania passed the Covered Devices Recycling Act. The law prohibits residents from putting any covered device in the trash.
A covered device includes desktop computers, laptops, and computer accessories; televisions; and hand-held tablets (Kindle, iPad, etc.).
As a trash hauler, it is illegal for Econ to take any covered device a customer has put out. Only companies with a specific electronic recycling license can accept any covered device.
You can drop off your old covered devices at:
The Household Hazardous Waste Facility
1299 Harrisburg Pike, Lancaster, PA
Open M-F 8 a.m. – 4 p.m. Saturday 8 a.m. – Noon.
Free to all Lancaster County citizens, 10 items max.
Click here for the Lancaster County Solid Waste Management Authority's website for details on the law.
Before you purchase a new device, ask the store if they have a recycling program for the old device. Most big box stores have a recycling program in place.